Welcome to Sears Tower™ Online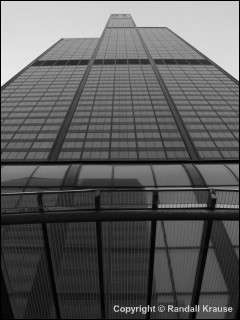 On Thursday, July 16, I personally assumed ownership of the common law rights in the recently defunct SEARS TOWER trademark.
The original building designation has been abandoned pursuant to public notice — including a ceremonial proclamation — by Willis Group Holdings Ltd and American Landmark Properties Ltd. Furthermore, Sears Holdings itself is no longer actively maintaining its USPTO registration in national or international commerce.
The SEARS TOWER mark is of significant historic interest to the American public. It remains an asset to both the City of Chicago as well as the State of Illinois. Therefore, as a brand identity, SEARS TOWER deserves ongoing protection and recognition, and is hereby claimed accordingly.
Thus, my goal is simple: Promote continued awareness of this symbolic "pop-culture" name in conjunction with the iconic building historically located at 233 South Wacker Dr.
The original SEARS TOWER homepage can be found at www.searstower.org.